The Shakti Foundation was born in 1992, out of the anguish faced by Velan's parents who lost their only son to Duchenne Muscular Dystrophy in 1998. Rather than lamenting the untimely bereavement of their son, they made up their minds to continue the torch lit by him – to make the general public responsive to the needs of similar victims. The Foundation was registered as a Trust in 1993. The Shakti Foundation's message – 'Heal the World'; its mission statement – 'Life is short. So work/play hard'.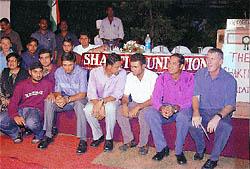 The Shakti Foundation identified with the Adhiparasakthi Medical and Research Hospital as its sole project. This hospital is situated 92 kms from Chennai and caters to the rural poor. The treatment is totally free. The Foundation has equipped this hospital in totality.
To have ramps compulsory in all public buildings by implementing the Disabilities Act of 1997 (Equal Opportunities, Protection of Rights, and Full Participation).
To have separate parking lots for the physically challenged.
To have separate toilets for the physically challenged.
Suitable amendments in trains, aircraft's, and public transport to accommodate the wheelchair bound.
To devise a way an ambulance can reach a hospital quickly when it houses a patient in a critical condition.
To provide access for all kinds of physically challenged Citizens at Zebra crossings whereby they get some systems to reach the other side of the roads.
To get a data bank of all physically challenged people whereby they register with the Shakti Foundation and the Foundation has a roster.
To sensitize people to the acute need to empathize with the cause of disability and provide actual amenities for them in the environment, bearing in mind their mobility limitations.